Procure To Pay (P2P) Automation
The Solution
Procure to Pay (P2P) solution by Flologic leverages intelligent Robotic Process Automation (RPA) technology to deliver straight through processing of supplier payments. It provides deeper insights into budget adherence, outstanding obligations, and supplier retentions thereby enhancing compliance, reducing cost and improving convenience using AI assisted technologies.
Flologic's P2P system is an totally integrated solution designed to support an end-to-end method that begins with product and services requisitioning and ends with ready-to-pay files for transfer into an accounts payable system. The solution uses a scan-and-capture service, vendor portal and/or a multi-enterprise network to enable vendors to submit invoices electronically. Additionally to core e-procurement functionality (including e-requisitioning, approval work flow and e-catalog management), the procure-to-pay solution provide purchase-order-to-invoice matching and process for invoices that don't match or when product are returned.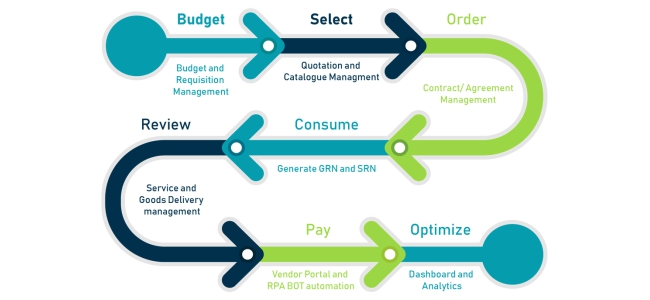 Why do you need to implement Accounts Payable automation today?
Accounts payable function is always something that companies spend a good time, energy and budget while always wishing that there must be an easy way to implement end to end accounts payable automation. Most of the companies.. Read more..
Benefits of Procure to Pay Automation
Increase the accuracy of invoices raised by supplier up to 60%*
Improve the cycle time to process invoice up to 3 times*
Reduce cost of processing invoice up to 40%*
Improve budget adherence with supplier dashboard and analytics.
Enhance working capital management with intelligent payments
Get dynamic discounts for early payments to suppliers.
Centralized platform outside ERP for easy management.
Mobile-enabled Supplier Portal
Flexible workflow with multilevel approvals
FloAP Bots to automate most mundane tasks
Readymade Plug-In for ERP and existing invoicing software like QuickBooks and Zoho
Enhance your working capital & supply management and manage your accounts payable easily with Flologic Procure to Pay solution built using intelligent automation & RPA technology. What's more, the flexible pricing plans offer you to get started quickly with minimal upfront cost easily integrated with existing ERP softwares.
Looking For A Procurement Automation?
Let us help you automate your procurement process.